There are numerous different potato types. The four main types are Russet, Round White, Yellow Fleshed, and Red. On the Visser farm, we grow specific varieties of these potato types. Of the Russet type we grow the Norkota and the Gold Rush, of the Yellow Fleshed type we grow the Yukon Gold, and of the Round White type we grow the Superior variety. More detailed information on the types and varieties we grow is listed below.




Many years of intensive research have gone into this relatively new potato variety. The Yukon Gold variety was developed in Ontario making it a truly Canadian potato. This particular potato variety has remarkably good boiling, baking, and frying qualities, with a golden butter coated appearance and delicious taste.

Like all potatoes grown under Prince Edward Island's clear skies and rich red soil, the Yukon Gold is virtually fat free, low in sodium, and contains no cholesterol.

Round White potato type is an early maturing type of potato, in other words, it is ready to harvest sooner than other varieties. This allows it to be harvested in mid-August. Typically, this type of potato would be purchased as a "new" potato. As their name suggests, Round Whites are round with a white flesh. They are great for boiling, salads, and micro1waving. On the Visser farm, we grow the Superior variety.

This white-fleshed oblong shaped potato type has a russet skin. It is a popular potato for both restaurant use as a baked potato and table potatoes for baking, mashing, microwaving, and fries. Russets generally resist bruising and stand up well in storage. Varieties of Russet grown on our farm are Norkota and Gold Rush.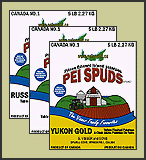 With the launch of this site we have also launched a new bag design exclusive to Gerrit Visser and Sons. Our goal is to have our brand, PEI Spuds, represent a high quality, nutritious product you can trust. The potatoes in our bag come from a family farm on PEI, not a factory, and we care about what goes in each bag.

On our farm we can fill many different kinds of packs. We have the ability to fill poly and paper consumer packs in many sizes. We also can fill count cartons for loose displays and service industry use. Talk to Us for more information on our product.